Price: $1195
This is a Poco "0" by Hacker Manufacturing with a 12″ x 18″ printing area. It is classified as a cylinder press. It has been completely disassembled and restored. All painted parts were sandblasted. The bed and the cylinder were soda blasted then waxed. Sandblasted parts were primed and given two coats of a custom blue-gray oil based paint. The gear on the cylinder is new. It was machined by a local machinist and makes the press work as new. I made a pin wrench on my lathe which is used to tighten the tympan. I reproduced the original directions and fixed them to the cylinder as it was when originally sold by the manufacturer. The press is on an original factory metal and wood stand to which I installed casters to allow for easy moment from place to place. There are handy shelves for paper and ink storage. The press has its original ink plate. I will be including a really nice brayer better than the one currently shown in pictures. This is a beautiful cylinder galley press that can be used for its original purpose of proofing letterpress projects or can also be used for print making with linoleum/wood block etc. I will be including a rubber blanket and tympan so the press will be absolutely ready to use. This press is in excellent condition and capable of great impression.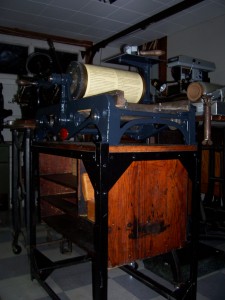 Price $1195.00
This press has been sold. Look for more as I am always acquiring presses.
This press must be picked up at our shop in Lyme, CT.
Easy access from Route 95