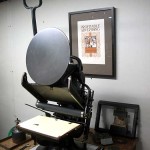 The two babies of the shop are a Golding Official No. 9 tabletop map press and an Official No. 4, both with a chase size of 6″x9″. The map press works differently than the traditional press in that the platen is stationary and the bed moves rather than the other way around. It was used to print documents on large paper such as the header on blueprints. The No. 4 works in the traditional manner. Today we use these presses for classes and small runs of letterhead and envelopes.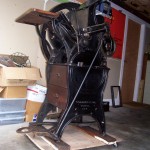 Next we have two Old Style Pearls with chase sizes of 7″ x 11″. These may be the most attractive presses Golding ever produced.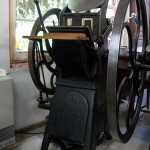 We also have a Golding Improved Pearl No. 11 treadle floor model with a chase size of 7″x11″. This press is currently set up to die cut a postcard package we produce. It is also a popular press used in our letterpress workshops.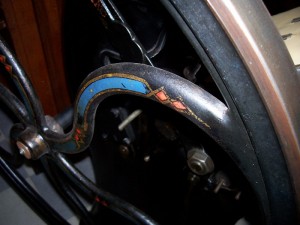 Our Golding Jobber No. 6 treadled floor model with a chase size of 8″x12″ is the workhorse in the shop.
It does most of the printing and is the my personal favorite . It has much of the original finish and decorations that make it very enjoyable to look at as well.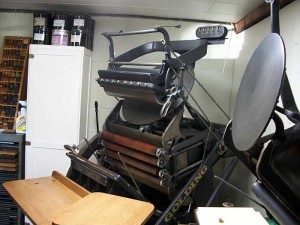 Last but not least is the Golding Jobber Art Series No. 18 motorized floor model with a chase size of 12″x18″ which allows for larger runs or larger work. This press is featured in Briar Presses museum and is probably the best example in existence today. It has all the bells and whistles available at the time including full ink fountain, and counter.